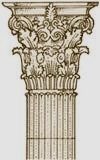 Orthodox Heritage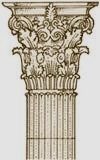 Home Message of the Month Orthodox Links Prophecies Life of St. POIMEN About Our Brotherhood
Receive Our Periodical Order Orthodox Homilies / Publications
Contact Us
---
MESSAGE OF THE MONTH
(November 2004 -- 2nd Article)
The Most Beautiful Wedding!... Ever!...
Kosovo: A great display of courage and commitment to the Faith by a group of brave Serbian Orthodox Christians, in face of immeasurable adversity and danger!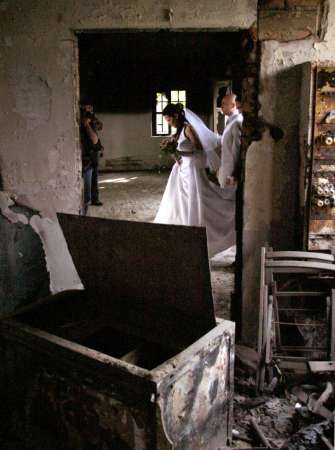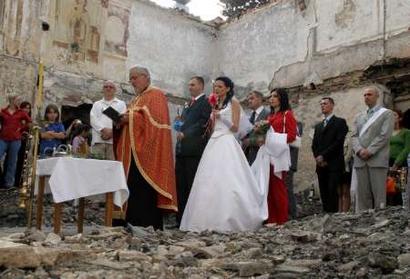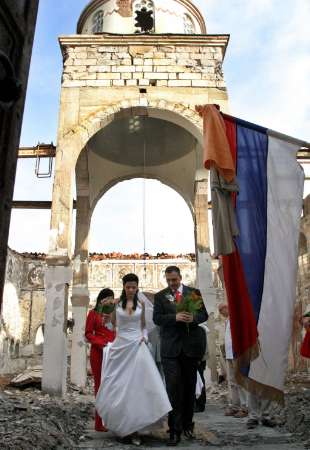 Bojana Mitrovic (bride) and Slobodan Petrovic (groom) leave the 19th century St. Nicholas Serbian Orthodox church after their wedding ceremony in Pristina October 10, 2004. Dozens of Serbs defied security fears on that Sunday to attend the wedding in Kosovo's predominantly Albanian capital, held in the burn-out ruins of an Orthodox church targeted during Albanian mob riots in March.
This church is just one of many that the Albanians have destroyed and desecrated. In the words of Patriarch Pavle, we share in the sadness of the Serbian people and are greatly distressed "...that in the year of the greatest Christian Jubilee, at the end of two millenniums of Christianity, Christian churches are still being destroyed -- not in a war but in the time of peace guaranteed by the international community."
For more details and a listing / pictures of churches destroyed and desecrated by Albanians extremists refer to:
A total of over 75 Serbian shrines have been destroyed and desecrated in different zones of responsibility of KFOR units (from USA, Italy, Germany, United Kingdom and France) which were deployed in Kosovo and Metohia to ensure protection for all people and their cultural heritage.